AMR is an accredited association management company (AMC) providing a wide range of services including strategic leadership support, financial management, event planning, member relations, marketing, communications, program management, information technology services and general administration.
At AMR, we think of the organizations we work with--including trade associations, membership societies, medical societies and nonprofit foundations--as partners rather than clients. Our staff members are more than just employees, they help make up the AMR team.
Did you know that there are tens of thousands of professional associations and medical societies around the world?
There is probably more than one for your profession.
As an association management company, AMR partners with these groups of volunteers to run day-to-day operations, plan conferences and develop and execute strategies that help them achieve their missions and reach their goals.
This allows the board of directors and other volunteers, who have day jobs, to focus their time on ensuring a clear vision for how the association helps its members, the profession and ultimately society. We take their vision and turn it into action.
By delivering a wide range of quality association management services and acting with integrity and trust, AMR continues to earn the confidence of the organizations we serve every day.
Consistently Delivering Results
AMR is passionate about providing outstanding professional services to our clients. Our niche: We consistently deliver results through our people, passion and process. Every member of our professional team knows The AMR Way—getting stuff done the right way, every day, with accountability, communication and transparency.
Investing in Innovative and Creative Solutions
Since 1997, AMR has been helping professional societies, trade associations and other nonprofits deliver powerful experiences, streamline operations, implement innovative strategies and fully utilize available technology solutions.
Building Great Partnerships
Through our core values and commitment to excellence, AMR builds long-term partnerships founded on a collaborative spirit and forged with a promise to always try to exceed each client's expectations every day. We know trust is a key factor in great relationships, and trust is built by following through on our commitments.
Experts Doing Expert Work
AMR's blended team of specialists, generalists, and functional area experts work in concert toward a common goal, which provides an elevated level of service in an efficient and cost-effective manner.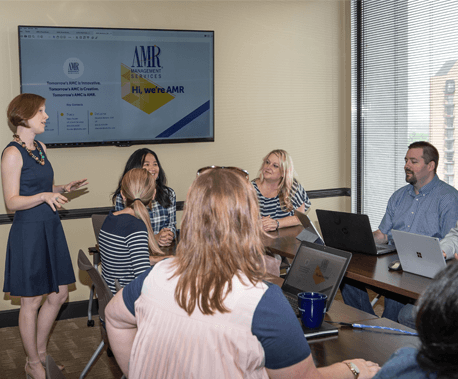 AMR Team Having A Meeting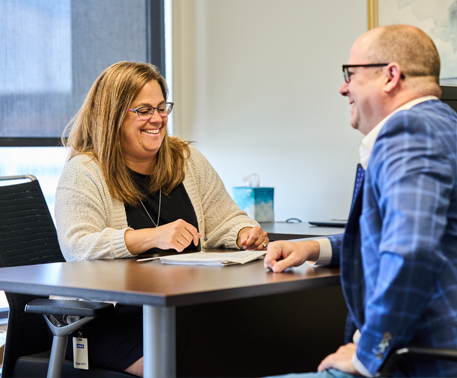 Nick and Jennifer Having a chat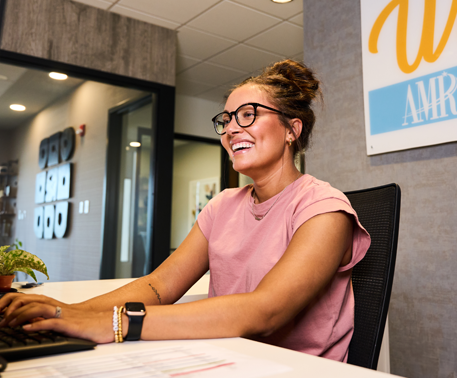 Cecilia holding down the reception desk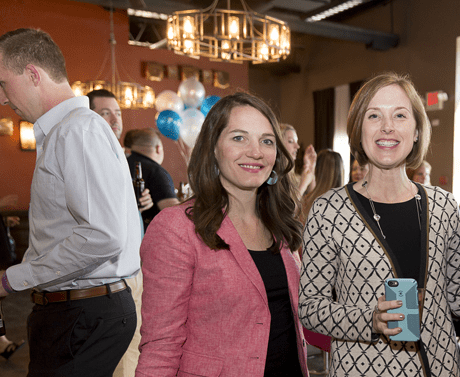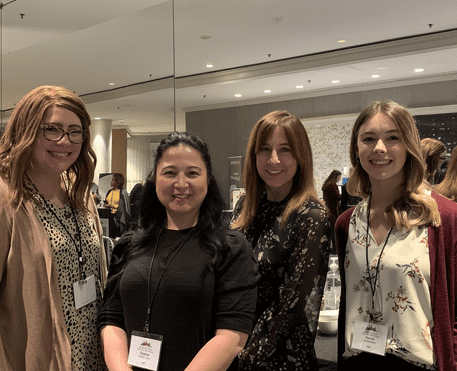 Another Team Shot At An Event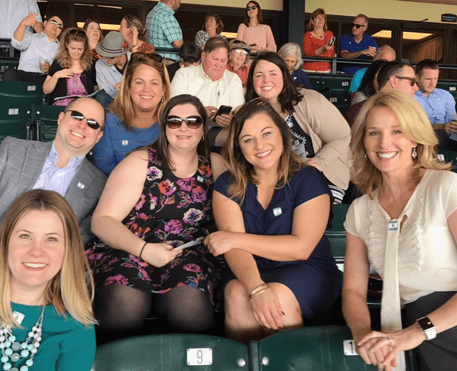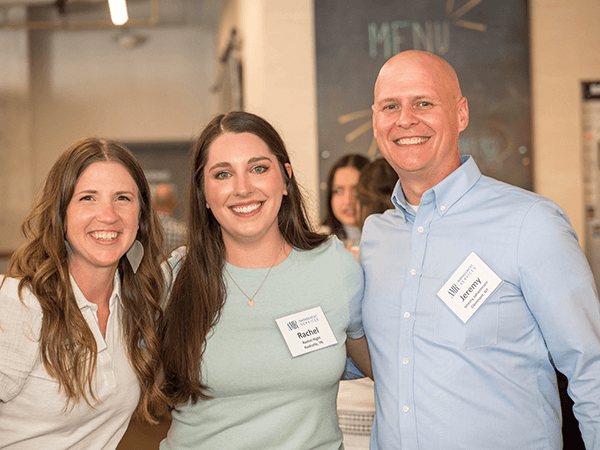 Recent Association Management Case Studies

"Because of the negotiating prowess of AMR, we were allowed the flexibility to work with suppliers of our own choosing. This enabled M² OnStage to use a trusted vendor and labor, which greatly reduced costs. In our view, these savings were possible because of AMR's knowledge of hotel contracts and up-front negotiations, paving the way for us to do our job, thus enabling M² OnStage to deliver our service at a fair price. The planning expertise that AMR brings to the table is truly an advantage that we wish all of our clients had. We applaud and sincerely value the relationship we have with the AMR team."
Bob McWilliams
M squared OnStage, Inc.

"For the past few years we have been honored to partner with AMR and their roster of associations. And I can say that without a doubt, the AMR Team is one of the best in the business. When it comes to audiovisual production design and pricing, AMR works closely with our staff to effectively and efficiently oversee the entire AV production. From room holds to ceiling heights, and other AV production needs – the AMR team is totally versed and knowledgeable on what needs to done. When it comes to meetings and event planning – the AMR Team is fantastic."
Quinn McMurtry
Director Client Services, MAC Productions

"AMR executing at a high level has enabled SOAP the opportunity to grow in membership and reach and financially in order to fund research and projects. These projects materialized with their strategic guidance and are resulting in value to not only our members but our patients."
Edward (Ted) Anthony Yaghmour, MD, FASA
President, Society for Obstetric Anesthesia and Perinatology
"As a small, mission-focused organization, ACH has relied on association management companies for years to support us from an infrastructure perspective. That said, until we connected with AMR, we never had realized the synergistic, almost multiplicative, benefit possible when a mission-focused association aligns with a client-driven, mission-enabling management association. We are reaching heights as an organization beyond what we ever have achieved in the past."
Donald Brady, MD, FAACH
Board Chair and Past President Academy on Communication in Healthcare

"AMR has all the tools to maintain the necessary functions of any association. However, what distinguishes AMR in the field of association management is its high-quality staff and the professionalism they exhibit. They work to earn and maintain your trust by serving as strategic partners to help you achieve organizational goals."
Nicholas Croce Jr., MS
Past Lead Coordinator, NOA Coordinating Team Nursing Organizations Alliance

"Having served on the NAGDCA Board for more than 10 years, I can attest to the tremendous work done by AMR. The staff I've encountered have been both competent and caring, moving our association forward every day."
Ralph Marsh
Past President National Association of Government Defined Contribution Administrators

"We chose AMR as our management partner because of their proven success with associations like ours. The relationship grew to a full-service management relationship in less than a year, because AMR demonstrated they are a true partner in our success. Our AMR team lifts the load to allow our volunteer Board of Directors to create and drive strategy. Even more importantly, they've demonstrated a willingness to go the extra mile for our members."
Rachel Miller
2018 National President Women's Energy Network
"I was part of the group who interviewed AMR when we were looking for a new management company in 2018. We needed a quick turnaround and AMR made it happen! They stood out during the search process because of their willingness to listen to our needs and help us solve some not insignificant challenges. Their team goes above and beyond for us. We're four years into our relationship with AMR and I can say, everything they said about what it's like to be a client has stayed true. We have a great relationship with not only our daily team, but Nick and DeLaine check in with us on a regular basis. The team helped us throughout the pandemic to not only "survive" but to continue to grow. We appreciate the resources they have to help us find "outside the box" solutions. I truly feel AMR is a great partner for AAM."
Jen Lemanski
Senior Manager, Practice Growth, PKF Texas
"With AMR, I have found genuine partners who operate with transparency, integrity and a win-win approach. We've been able to celebrate great success together and have also had some challenging and difficult conversations. Both types of situations are always focused on finding that balance between the needs of AMR's Client Partners and those of Marriott International to ensure a favorable outcome for both."
Michelle Hilsabeck
Senior Account Executive Marriott International

The AMR team was amazing to work with from start to finish! They were collaborative and extremely thorough, ensuring all details/aspects of the event were covered from their end. The AMR Team members that I worked with were amiable, professional, and absolute pleasure to work with. Their service was, without a doubt, wonderful and made our job that much easier. The event was a huge success! We look forward to a continued partnership with them and many more successful events.
Sara Mejia
National Account Manager - Alliance Exposition
Cvent had a great experience working with the ABRF team for the ABRF 2022 Annual Meeting. ABRF understands the value of the connections between their sponsors and attendees and ensured the connections turned into meaningful relationships using Cvent LeadCapture. Thank you for this wonderful partnership.
Justine Abella
Senior Project Manager, - Cvent
NASCIO has been an AMR client for over two decades now and we truly value the relationship. There is a trust between the volunteer leaders of the organization and our AMR team and we know that we can share our goals for the organization and our team will make them a reality. I believe the results over the years speak for themselves and I couldn't be happier with the partnership.
Michael Leahy
NASCIO President, Secretary of Information Technology, State of Maryland
"I've been impressed by AMR's innovative conference approaches that use the best of current adult learning theory. Promotion of reflection, adult-centered breakouts patterned after Open Space Technology, letting attendees self-manage learning. It's all there. No "sage from the stage" emphasis here. Their accreditation of course goes much further, but AMR's conferences have been terrific."
Richard Pennington
Author, Seeing Excellence: Learning from Great Procurement Teams

AMR executes at a very high level, so we are able to get much more done and do it efficiently. But they don't just stay at the operational level. One of the things we value most about AMR is the strategic guidance of their team, and their willingness to put their expertise to use for our association's benefit. The team we work with is perfectly matched to our needs, and working with AMR has elevated our Board of Directors' purpose and performance. They are always looking out for us, and offer an excellent balance of day-to-day support and forward-looking strategic direction. I can't say enough about what AMR has done for our organization.

accountingmarketing.org
Becca Johns
Director of Practice Growth, Rea & Associates, Inc.